Composer – Musician – Lyricist
Luciano Lombardi is a composer, orchestrator, arranger and pianist. Growing up in Italy, a self-taught musician, he decided to advance his musical knowledge studying music theory, harmony and piano in Rome from 1989 to 2005. To support his musical studies he worked in radio starting out as an audio technician, which then led him into becoming an announcer and finally program director, all the while gaining incredible knowledge about music and the business of music. During this time he wrote and produced music for many programs as well as writing and producing jingles and commercials.
Greatly influenced by world famous Italian composer Ennio Morricone, Luciano was encouraged to focus on composing and now has over 200 completed musical compositions covering all genres of music.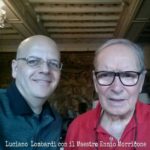 A Canadian by birthright, Luciano moved to Toronto in late 2005 to learn English and broaden his musical boundaries. During his short time in Toronto he has produced music for multimedia software houses, animation and music therapy projects as well as some commercials and radio jingles. He has aligned himself with noted music publishing house, Backstage Music Publishing, and is focusing his talents on writing music for films.
Recently he was approached to write some music for the health and wellness industry. The result being a new CD entitled "AWAKENING".
In addition, scored the strings for the new Canadian rock band album "Siberia KO". The songs and music caught the attention of former Black Crows keyboardist Eddie Harsh and when he heard the strings he was blown away saying "Wow this is something else!" The combination of driving rock and powerful fresh string arrangement should make for a welcome arrival for music fans.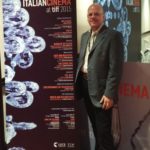 Since 2012 he started composing music for short films.
In 2014 scored the music for the feature film "Con tutto l'amore che ho" (released in Italy in 2016).
Soundtracks
Instruments
Piano, keyboards, computer music programming, home recording and audio editing.
Repertory
Classical, Pop, Instrumental, Soundtracks, New Age, Other
Summary of Accomplishments
Composition
"Tema per Ennio" – dedicated to Ennio Morricone, the famous Italian composer, in 1997.
Songs for theatrical plays.
Jingles and introductory music for radio broadcasting.
Music for multimedia software houses and "New Age" style music for poets.
Music for a psychologist's curative CD on Parkinson's Disease.
Anime soundtrack for Laboratory School, Columbus Centre, Toronto, 2006.
Internet and TV commercial/musical jingle for a famous Italian ice cream shop in Toronto, 2006.
Won second prize at The Paris Sync Summit competition (2014).
Starting since 2015, produced jingles and instrumental songs performed during the ICFF (Italian Contemporary Film Festival) in Toronto
Performance
Performed at the Toronto International Film Festival (September 2008)
Performed at the Toronto Italian Film Festival (June 2008)
Performed at Waterfalls Restaurant downtown Toronto (May 2010)
Performed at the ICFF opening and closing gala party, Toronto (2015, 2016)
Voice
Tenor in church polyphonic choirs.
Instruction
Taught piano lessons to young and beginner students.
Training
"Berklee College of Music" – Master Certificate in Composing and Orchestrating for Film and TV – 2017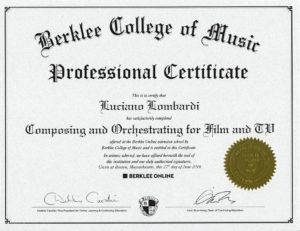 "Berklee College of Music" – Professional Certificate in Composing and Orchestrating for Film and TV – 2016
"Modern Music Composition for Film" Online Course by David Hentschel – 2013
"Synthesia" – Piano and Harmony (Rome, Italy) 2003-2005
"Scoring for Film" course (Rome, Italy) 1998
"Il Madrigale" – Piano and Theory (Rome, Italy) 1989-1991
Computer analyst and programmer, web developer.
Four years of experience in radio broadcasting as a music director/announcer, news editor/ producer/ reporter, broadcast recording and mixer audio technician.
A published novelist (Di stanze – Aracne Editrice, Italy, 2006) and poet (anthologie).